Developer Productivity Masterclass early access available
wednesday, august 11, 2021
I'm in the process of producing a masterclass on-demand video course on all things developer productivity, and for early birds this course is already available.
Update 2022-06-08: The course has now been fully published. The early access is no longer available, but for those of you who grabbed that package, your access remains valid for an unlimited time.
It is still under development and most content is yet to arrive, but for my followers and readers of my blog, I want to give a special deal with 50% off the final price.
If you enjoyed my content on #productivity and #automation, you'll like this course even more. The final content is equivalent of what we cover in a 2-day in-person workshop.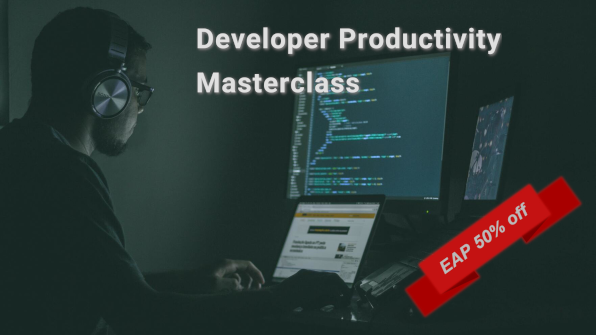 The experience of Flow and programming

Why and how to use automation

How to focus & minimizing context switches

Why and how to increase our keyboard usage

Effectively using editors, IDEs, and the command line

Minimizing waiting times while programming

Writing automation scripts & helper programs

Crafting comprehensible & maintainable code

The importance of reflecting

Improving our skills & knowledge

Documentation & communicating effectively

Work environments & managing distractions

Time & priority management

…​ and more
For a detailed curriculum and to enroll with the early-access offer, check out the course page.
As part of the early access, you will see all future updates of this course as they arrive, your access remains valid forever, and as a bonus, your feedback can also shape the final version of the course, for example if you struggled with particular parts or wanted more examples in particular areas.
I'm happy to know if that topic is of interest to you, and I would love to hear your thoughts.
Found the post useful? Subscribe to my newsletter for more free content, tips and tricks on IT & Java: